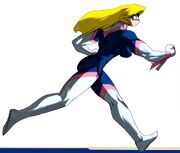 Barbara Duncan, AKA "Crush", is a super human currently employed at Agency Zero.
After Danielle Carter moved to New York Barbara replaced Britanny Diggers as her sidekick. However, during a battle with Syndicate X, she got carried away and unknowingly murdered an undercover cop.
After finding his badge, she became distraught and went to prison. While in prison, she was a model inmate, using her super strength to help the guards keep the peace with the other inmates. Despite her good behavior, she turned down every offer for parole and Danielle's offers to help her get out, determined to stay in prison until she served her full sentence.
After Fauntleroy and his wives attacked the prison Barbara and Danielle helped Agency Zero defeat them.
After serving her time and leaving the prison, Barbara joined Agency Zero.